It's Week 2 and it's the East Regionals. Did it look better than last week? Let's find out.
LeKeith: You know what was awesome? ABDC: EAST. (Actually, there were a few problems but I wanted to start off positive.)
Howard: It was a pretty solid show, I thought.
LeKeith: I thought so too. Although my immediate complaint was that the title graphic said ABDC Regionals: SOUTH. Really, MTV?
Howard: HA! Any of those teams would have easily defeated all but the best team from the South.
LeKeith: I agree.

Howard: So let's start with the return of Status Quo, a.k.a. Legendary 7. Which is actually a pretty dope name for a crew.
LeKeith: because of the Magnificent 7?
Howard: Well, I don't know if you saw their logo, but it had a dude in a rice paddy hat in it. With swords, I think.
LeKeith: Like the Seven Samurai?
Howard: Sure.
LeKeith: Anyway, their routine still felt very Status Quo to me, even down to that frenetic music they intercut at one point. I did appreciate that they had some nice choreography in the group though
Howard: Yeah. The rhythm of it was very Status Quo. Synchronized choreo that leads to frenetic tricks section. With E-Knock in the front.
LeKeith: I noticed that too. That bugged me a little
Howard: Me too.
LeKeith: But he wasn't at the front for the end of the routine.
Howard: That was something that bugged us about Boogie Down Bronx as well, IIRC.
LeKeith: Yes, it was. They eventually switched it up, though.
Howard: E-Knock did make himself the center of attention during the battle, but we'll get back to that later.
LeKeith: Yes, he did. Why did they do the helicopter again? Because they could?
Howard: Pretty much. But it was a much better helicopter, I would say. They were definitely more in sync than Status Quo. And it was a great first impression.
LeKeith: It was. And they did get the crowd pumped as the show opener.
Howard: Yup. And then we had Quahog Qrew.
LeKeith: HA! What was their name again? "draZtik!"
Howard: Yeah…
LeKeith: I gotta say though, I wanted to see them do another number just to see if they end every routine yelling "draZtik!" Because I thought that was pretty funny.
Howard: HA! They were OK. They would have been right at home during the South regionals.
LeKeith: Yeah, I think so too. They weren't a bad crew but I think JC and Lil Mama actually hit the nail on the head in their judging.
Howard: Yeah, I totally agree. I have nothing to say either way. At least, nothing that's not clowning their physical appearance, which is probably cruel.
LeKeith: It would be, yes. I have to say though, it's hard to take Lil Mama seriously when she incorrectly uses the word "seriously" but then makes an astute point.
Howard: HA!
LeKeith: She kept saying "serious" when she meant seriously.
Howard: She was in rare form last night.
LeKeith: Adverbs!
Howard: OK, so let's move onto Team Canada.
LeKeith: I love calling them Team Canada! That was immediately what I wanted to call them. I also really liked this crew.
Howard: I don't want to like them.
LeKeith: because they're from Montreal?
Howard: Yes. This is America's Best Dance Crew. Not North America's Best Dance Crew.
LeKeith: Oh. Fair enough.
Howard: I'm just sayin'.
LeKeith: I wonder if Legendary 7 will try to get their Visas revoked or something.
Howard: But I think it's a testament to the quality of their work that they managed to overcome my xenophobia.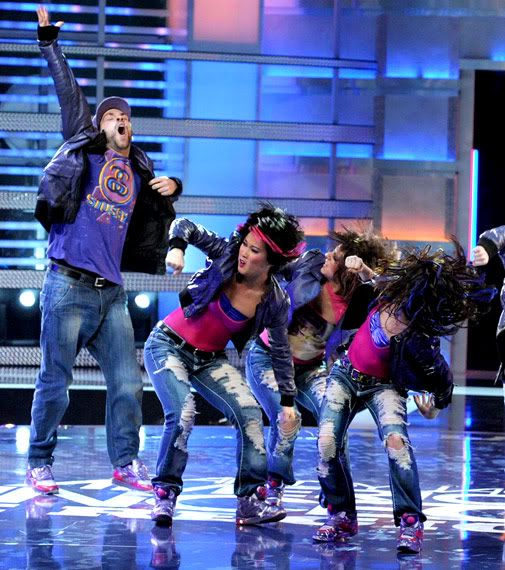 LeKeith: It was a very clean routine that had the extra tweaks and energy that Quohog Qrew was lacking.
Howard: Yup. And they were insanely in-sync with each other.
LeKeith: They were!
Howard: Like Kabba levels of in-sync. Even during the slo-mos, which is usually when you see people being slightly off each other, they looked good.
LeKeith: This is very true.
Howard: They didn't really have any flashy tricks, but I will take solid fundamentals any day.
LeKeith: Yes, this crew had a little bit of everything but nothing too over the top. They did a little vogue-ing, right?
Howard: I think so. And they did that move you hate – where they throw up the horns to rock music.
LeKeith: Oh! I liked it here though. Here's why: unlike that other crew that claimed to be a Rock crew but wasn't, this crew had a little bit of everything so when it came time for the guitar solo, it made sense.
Howard: I see.
LeKeith: I also hate the air guitar playing motion that some crews have used. There's a whole documentary on Air Guitaring. It's an art.
Howard: Agreed.
LeKeith: It also helped that I thought the riff was from Sweet Child O' Mine at first. But moving on …
Howard: Static Noyze, a.k.a. Fanny Pak East.
LeKeith: I really liked this crew. Their opening reminded me of So You Think You Can Dance, like a Wade Robson piece.
Howard: Yeah, I can see that. You can definitely tell that they've all had some classical training.
LeKeith: Oh, absolutely. I didn't like it so much when they first started their hardcore section because it looked like they were miming skiing at first. But it picked up very quickly.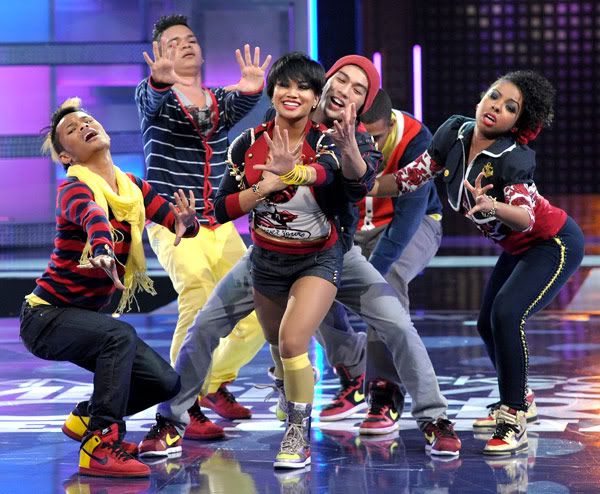 Howard: I disagree with Omarion's critque that they feel too disparate. I feel like they blend things together well.
LeKeith: It was a very blended group. It wasn't obvious who was trained and who wasn't. JC did get a little dig in on Omarion during his critique.
Howard: JC is so deliciously catty sometimes.
LeKeith: I know!
Howard: OK, so let's turn to the big surprise of the evening. Ini Kamozee's Hotsteppers.
LeKeith: Wow. Much Better Name. Than Saltare.
Howard: It's latin for jump! Confession time: when I was watching the show, I was clowning this group so hard during their pre-routine interview. And then shit got crazy.
LeKeith: I felt the same way. First I was like, "How is North Carolina in the East?" Then I shut up.
Howard: HA! In any case, BreakSk8 2K10 was pretty dope in their opening routine.
LeKeith: There was also no NYC representation, which I thought was odd. I blame the RingMasterz
Howard: That shit where they switched the person turning the rope without missing a beat? Sick.
LeKeith: Oh yeah. This season's gimmick was crazy! Everything they did was ridiculous, when they involved the rope.
Howard: But I wonder how much versatility they will have.
LeKeith: I even appreciated how they were able to stop the rope and snap it into place on beat.
Howard: Yup. That rope is like an extension of their bodies.
LeKeith: I mean, this is the question that has always faced each of the gimmicked crews: versatility. Because when ABDC starts throwing in its own requirements, we'll see how well they cope
Howard: Yup.
LeKeith: they could be like BreakSk8 and do well or they could be like the Cloggers. Who were good but ultimately limited.
Howard: Well, I think BreakSk8 floated through on a lot of people voting for the members rather than their performances, to be fair. But yeah, the gimmick groups tend to have a short lifespan. That being said, the Hotsteppers impressed the hell out of me last night and totally deserved to move on.
LeKeith: me too.
Howard: So the battle. Did the judges make the right choice? I say yes.
LeKeith: I think so too. It was Legendary 7, Quohog Qrew and the Winners… I actually don't remember which crew was the third crew.
Howard: Fanny Pak East.
LeKeith: Yes! Because Omarion didn't like them the first time.
Howard: They clearly had the best routine of during the battle. Legendary 7 kind of fell apart during the battle.
LeKeith: I think E-Knock called some audibles.
Howard: And what the hell was that bit where E-Knock jumped into a blanket?
LeKeith: They were putting the other crews to bed. That's how they do it in Beantown.
Howard: HA! Well, it was an enjoyable week overall, but I have to admit that I enjoy writing these more when there are terrible crews on. Because, to be honest, there wasn't much to clown this week. Even Quahog Qrew wasn't that terrible.
LeKeith: HA! don't worry, the South will be back.
Howard: Oh yes, the South shall rise again.
LeKeith: No, they weren't!
Howard: I keep waiting for Mario Lopez to say that.
LeKeith: He better not. Although he did say that Canada will invade America. Which doesn't make any sense.
Howard: Maybe he's wrangling for a part in Canadian Bacon 2. Also, I think Mario should entertain us with more jump roping.
LeKeith: He was nice with the rope, right? Also, I'm hoping miss Layla Kayleigh makes a comeback. She's still listed on my Info Guide.
Howard: Hope springs eternal, my friend.
LeKeith: I'm just glad the East Coast didn't turn into the Least Coast. since the West Coast has been the Best Coast so far. (This is what Mario Lopez sounds like.)
Howard: HA! I am actually anxious about the West Coast. Are the judges going to stack the deck?
LeKeith: against the West Coast you mean?
Howard: Yeah. I saw a dude on stilts in the preview! Is his crew going to make it through?
LeKeith: HAHA! I saw that too!
Howard: Clearly they will be some nonsense.
LeKeith: I thought that was just a shot of someone on the Hollywood Walk of Fame or something.
Howard: "Oh sorry, West Coast. Looks like the Zach Gowen Crew just couldn't win it all for you this year."
LeKeith: I wouldn't be surprised if there was a one-legged dancer in a crew soon. We'll find out together next week.
Howard: Indeed we will.