During David Ellis' final episode of 4 Guys, 1up, former EGM/1up editors Shane Bettenhausen and Mark MacDonald acknowledged that many (most?) of the old Quarterman columns in EGM were fabricated in their entirety. As deadlines loomed, they'd start making up rumors to fill the page. But they also noted that their fake rumors would occasionally come true.
So this got me thinking – why not go through my old EGM issues and take a look at the reliability of Q-Man? Sure, all the rumors are fake, but I think it'll serve as an interesting analysis of the prognosticating ability of the EGM staff.
Starting with the earliest issue I have, I'll cover about an issue a week. We'll discover if there's any trends to Q-Man's predictions or if his performance improves at certain times of the year.
Without further ado, let's get started…
—–
December 2007 (Issue 222)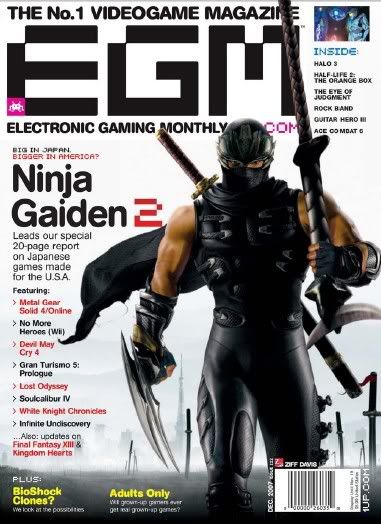 Rumor #1: GOD OF WAR 3 and GEARS OF WAR 2 are hankering for a Holiday 2008 release.
Result: FALSE and TRUE.
Considering that GOD OF WAR 3 just came out last week, I think we can agree that it missed that Holiday 2008 ship date. GEARS OF WAR 2, however, came out on November 11, 2008, neatly meeting that Holiday deadline.
–
Rumor #2: A "Triple A" third party game scheduled for release in late 2008 is being released earlier, possibly before March. And it's not GRAND THEFT AUTO 4, METAL GEAR SOLID 4 or DEVIL MAY CRY 4.
Result: WHO KNOWS? PROBABLY FALSE.
Going by Wikipedia's list of 2008 video game releases, the only "Triple A"-esque third party titles to be released between January 2008 and March 2008 are DEVIL MAY CRY 4, BURNOUT PARADISE and RAINBOW SIX: VEGAS 2. Since Q-Man specifically excludes DEVIL MAY CRY 4 from his prediction, while BURNOUT PARADISE and RAINBOW SIX: VEGAS 2 were always set for an early 2008 release, it seems that this rumor is false.
–
Rumor #3: n-Space is working on a GEIST sequel for an unnamed system, though DS and Wii are the leading guesses.
Result: FALSE.
Neither Nintendo nor n-Space have announced or revealed a sequel to GEIST. WINTER, a heretofore unreleased survival horror game developed by n-Space for the Wii almost seems like a spiritual successor to GEIST, but it's not close enough to verify this rumor.
–
Rumor #4: A sequel to SKIES OF ARCADIA is in the works.
Result: FALSE.
The closest thing we've seen is the inclusion of several SKIES OF ARCADIA characters in the excellent VALKYRIA CHRONICLES. This is definitely an occasion where I wish Q-Man's magical powers of persuasion had worked.
–
Rumor #5: Tetsuya Nomura's IT'S A WONDERFUL WORLD is coming to the US.
Result: TRUE.
Released as THE WORLD ENDS WITH YOU, this DS RPG is an experienced to be savored.
–
Rumor #6: Microsoft is making a MMO FPS for the Xbox 360, with Bungie hinted as the developer.
Result: FALSE and FALSE.
As far as I know, there are no FPS MMOs on any of the consoles. I guess M.A.G. for the Playstation 3 almost fills that niche, but it's definitely not on the Xbox 360. As for Bungie, their future projects are unknown, but a MMO FPS doesn't appear to be high on their list of priorities.
–
Rumor #7: No online play for DISGAEA 3, but it'll be in the sequel.
Result: TRUE and MAYBE?
There was indeed no online play for DISGAEA 3, though they were happy to provide a metric ton of downloadable characters. As for online play in the sequel, DISGAEA 4 has just been announced for release. Since we've got little to no information about it, there's no way to fully confirm or deny this rumor.
–

QUARTERMAN ACCURACY INDEX
With a total of 6 FALSES, 3 TRUES and 1 MAYBE, Quarterman earns a total of 2 Carnacs out of 5. A decent effort, but you've got to bat at least than 50%, Q-Man.