How did Quarterman fare under the pressures of the holiday rush? Let's find out.
Holiday 2007 (Issue 223)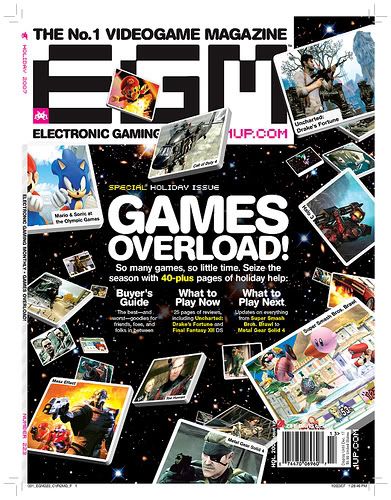 Rumor #1: BIOSHOCK is coming to the PS3.
Result: TRUE.
BIOSHOCK was released on the PS3 on October 21, 2008, almost a year after this prediction was published. Good call, Quarterman.
–
Rumor #2: EA SPORTS GAMESHOW is coming to the Xbox 360 and will branch into other entertainment topics.
Result: FALSE.
Peter Moore's grand experiment in live quiz shows never materialized on the 360. We did get 1 VERSUS 100, if that's any consolation.
–
Rumor #3: Konami is planning another MEAL GEAR game for the PSP that "harkens back to the early days."
Result: TRUE.
Quarterman performs an impressive feat by predicting the June 8, 2010 release of METAL GEAR SOLID: PEACE WALKER, the latest in Hideo Kojima's chronicles of Naked Snake (a.k.a. Big Boss).
–
Rumor #4: EA is making a game based on the G.I. JOE movie. Shiny Entertainment is being tasked with the job.
Result: TRUE and TECHNICALLY TRUE.
While EA did release G.I. JOE: THE RISE OF COBRA in 2009, it was Double Helix Games that was responsible for the programming duties. But wait! Double Helix Games was formed from the merger of The Collective and Shiny Entertainment. Flawless victory, Quarterman.
–
Rumor #5: The classic Nintendo 64 wrestling game WWE NO MERCY is coming to WiiWare.
Result: FALSE.
Much to my eternal sorrow, NO MERCY has yet to see re-release.
–
Rumor #6: After the shame of SONIC THE HEDGEHOG (now with 100% more hedgehog on human action!), Sega is taking another stab at a real Sonic game.
Result: TRUE.
Although no one can forget the sadness of the Were-hog, 2008′s SONIC UNLEASHED did represent an attempt to make a "real" Sonic game. Well, about 50% of it did. In any case, it's close enough to earn a credit for Quarterman.
–
Rumor #7: A new ROAD RASH is in the works.
Result: TRUE.
Although a next-gen ROAD RASH has never materialized, Destroid has a couple of articles documenting its development, including test footage (embedded below) and concept art. EA, it's time to make this bad boy happen.
–

QUARTERMAN ACCURACY INDEX
With a total of 6 TRUES and 2 FALSES, Quarterman earns a total of 4 Carnacs out of 5. A marked improvement from last month, Q-Man.