Over at Comic Book Legends Revealed, Brian Cronin takes a look at the history of Marvel character Dr. Druid, who was originally called Dr. Droom and had something of a makeover when he obtained his powers: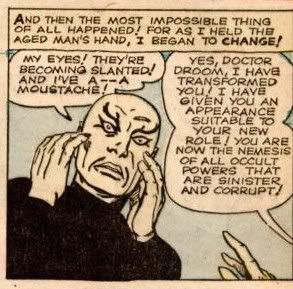 A few thoughts:
1. Evidently, Asians are the natural enemy of all occult powers that are sinister and corrupt. This is why you never see Asians in horror movies. Everything would be over before the end of the first reel.
2. God bless Stan Lee, but he evidently has no conception of how difficult it is for Asians to grow facial hair.
3. I will not rest until Dr. Druid is Asian again. Let's make it happen, Marvel Comics!