Every year, NewYork Comic Con (NYCC) grows in size and status as it competes with big brotherSan Diego Comic Con. Last year, the NYCC was given only half of the Jacobs JavittsCenter; this year, the NYCC doubled in size and seemed to be teeming with activity in every nook and cranny of the floor. The thousands of fans there,celebrating their undying fandom for comics, television, movies andvideogames, would never be denied again.
 Given the heaping mass, I enlisted in the aide of someone capable of parting worlds, let alone crowds. My friend
Andrew
planned to go to NYCC dressed as the indomitable Doctor Doom. His commitment to the design costume was so impressive – he crafted working metalarm and leg sleeves – he not only parted crowds, he stopped them, We were mobbed everywhere wewent; this resulted in a different Comic Con experience than in previous years.
For starters,everyone wants to take a picture with Dr. Doom:
Allies
– of which there arenone – stood shoulder to shoulder.
Enemies
– of which there are few – faced off.
Fans
– of which there are many – gawked in awe and slight fear.
 Dr. Doom even met another Doctor: Doctor Who, whose medical accreditation is equally questionable.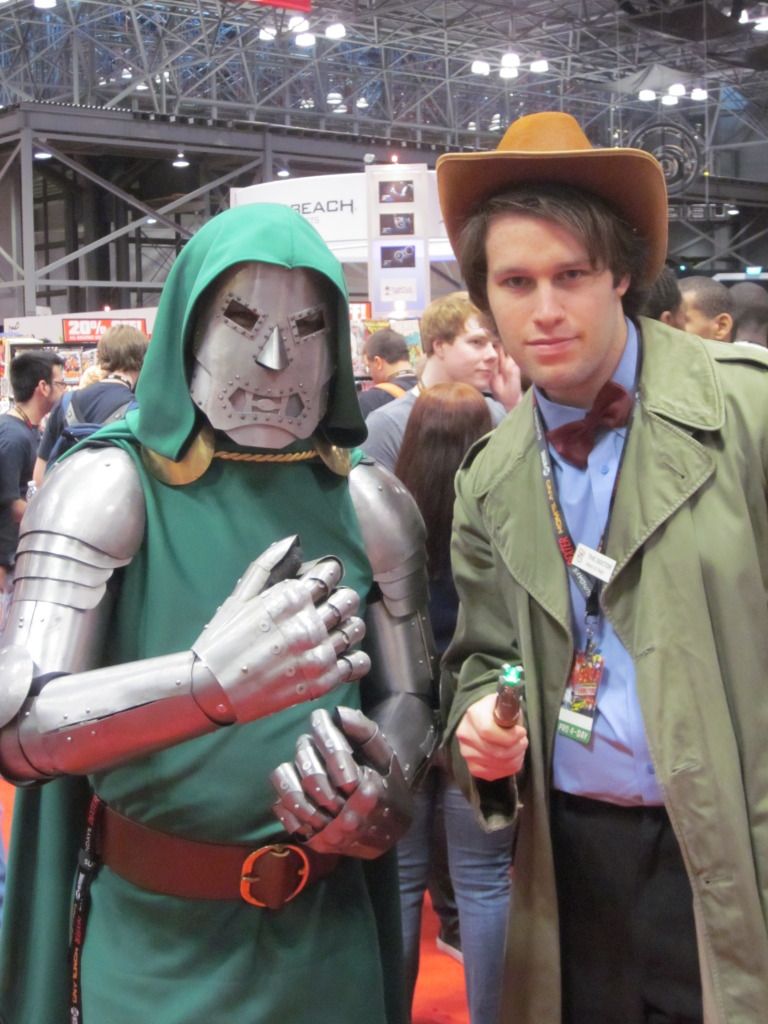 Andrew's Costume was such a hit that he was invited to participate in the Annual Heroes andVillains Photoshoot, a tradition I did not know even existed!  At the front of the Javitts Center, all the heroes and villains align, emerging from the panels of comics books to the realworld (sorta) of Comic Con. This produced SO. MANY. JOKERS. But, sure enough, there was Doom, front and center:
 There were so many elaborately detailed costumes in this Photoshoot. But my personal favorite was a family of all
Gothamites
: Huntress, Red Robin, Nightwing,Batgirl, and Batman Beyond. There was a Young Robin that pounced from the Shadows shortly after.
 Marvel characters were less than eager to embrace the Doctor. Frankly, personal experience has taught them better. But the real joy came from watching Andrew interact with other fans that crafted their costumes with equal amounts of delicacy and appreciation for the character they chose to embody. When Dr. Doom encountered Nova, the detail in which they discussed their craft was a treat to watch.
 Of course, the other joy is watching Dr. Doom get taken down a peg. And who better to do that than his sworn enemy, Squirrel Girl.
 Hopefully, Andrew inspired the next crop on Comic Con goers to design equally fantastic costumes. In the very least, he's inspired me to want to dress up for a Con. If Doctor Doom visits New York again, don't be surprised if there's a Doombot in tow, though my sweat glands may betray me.
 There were so many interesting characters, costumes and cheer at NYCC 2011. Be sure to check out some of it in the
NYCC 2011 Photogallery
.