Cosplayer, model, singer, and dancer, Mad Mel Madigan is also a professional badass who will cosplay what she wants, how she wants, and when she wants. In sum, you don't mess with Mad Mel. Known for her unique character interpretations, Mad Mel isn't afraid to deviate from the original costume design and infuse her costumes with her own personality. While this has earned her some criticism in the past, Mad Mel's cosplay philosophy is to breathe new life into characters and represent them in a new light.
Your brother had a big influence in sparking your love for gaming, comics, and movies. What are some of your best childhood memories with him? How does he feel about your cosplay?
MMM: I used to love hiding under the covers and watching him play Resident Evil. I still remember just wrapping myself in a blanket and peeking out because I was scared of the game. Also, anytime we watched cartoons together or he taught me about the characters in the comics he was reading. I used to love when he would show me his trading card collection for Marvel. It's pretty epic. He is very supportive of my cosplay. He knows he's the main reason I got into comics and things and I think he feels pretty proud of that. He's not too thrilled at some of my more racy shoots i.e. my boudoir and pin up. But then again, what older brother wants to see his younger sister half naked [laughs]?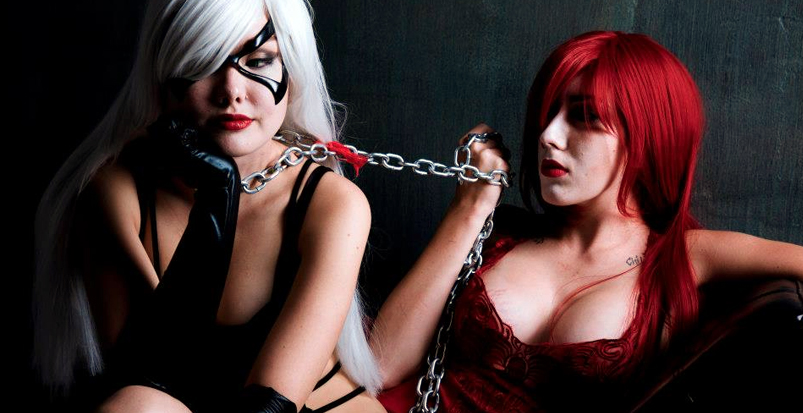 You only began cosplaying a little over 2 years ago. What was your first cosplay/convention experience like?
MMM: It was AMAZING. It was Wizard World Miami and I was so excited to just get to go and experience it. Looking back, it really was a small con. But everyone really loved my best friend's and my costumes. We were stopped for pictures everywhere. I got hit on by Arthur Suydam who I am a HUGE fan of. I saw Billy D. Williams. We stalked Nicolas Brendan's booth and at one point he actually got up out of his booth and came over and hugged us and told us how much he loved our costumes and asked us our names and said his name was Nicky. We couldn't talk for a full 5 minutes. I met one of my favorite cosplaying families ever. We've sort of adopted each other as family after that. And I met my now boyfriend there. He was dressed as Spider-man and as anyone can tell you I am OBSESSED with Spider-man. He came up and started talking to me and I was so excited because he was (and still is) the best Spider-man I had ever seen. Over all it was a wonderful first con experience.
What distinguishes your cosplay from the rest is your willingness to depart from the original costume and create your own unique interpretation of a character. What inspires you to create your own costume designs? How do people generally respond to these interpretations?
MMM: I've always had a very active imagination. I'm usually day dreaming about crazy things. So when I read comics or watch movies or play video games or so on, I imagine what the character would look like in different situations. "Ooh, I wonder what Ariel would look like as a rock star…what if MJ decided to be a playboy bunny?…What kind of lingerie would Black Cat wear?" As cheesy as it sounds, most of my cosplay ideas come from dreams I have. This last Halloween I could not decide what I wanted to be. So I took a nap, woke up, and immediately the thought of MJ Playboy bunny popped into my head. 7 hours later, I had my outfit.

People tend to have mixed reviews: There are the ones with open minds who think what I do is fantastic and they love it, there are the more traditional ones who are used to the regular costume and are confused by my interpretation. Then there are what I like to call "comic/con nazis" who will NOT tolerate any originality at all. They are also the ones who tend to point out the fact that most of the characters I cosplay are not Asian so an Asian should not be cosplaying them. I don't tend to listen to those people though, and neither should any cosplayer out there. Do what you love and what makes you feel good. Don't ever let anyone's hate slow you down.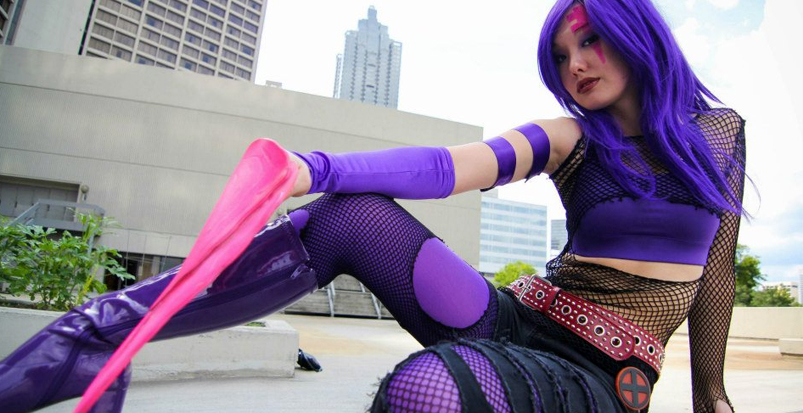 Would you like to see more cosplayers stray away from 'recreating' costumes and start making more original designs?
MMM: Honestly, I love both. When I see a cosplayer getting a costume SPOT on – like they walked right out of the comic – I just have to clap because THAT is really hard and takes a lot of hard work and dedication. I also love seeing what people can come up with. Creativity is one of my favorite parts of cosplaying and the more people display it, the better. I love creative/sexy/funny cosplay!
How closely related are cosplay and modeling? While the two obviously use similar skills, do you think there are any major distinctions between the two?
MMM: The major distinction is that in regular modeling you are given things to wear. You don't make your costumes. People do your make-up, hair, tell you how to stand, how to walk, etc. Cosplaying is the fun stuff. It really does mostly center around the creator's vision. So mostly, when you do cosplay shoots, it's all up to you! It gives you control. Even when photographers have ideas for shoots, they work together with the cosplayer to make it happen. Though both [modeling and cosplay] can be extremely uncomfortable: Tons of make-up, weird hair, weird clothes, heels, AND keeping it all on for hours at a time.
You are also a member of the Aggressive Comix Harem. Can you tell us a little bit about what this means and your involvement with Aggressive Comix?
MMM: Go Aggressive Comix! Those guys are awesome. Being a member of the "Harem" is basically just being a representative. We go to cons, run the booths, advertise, and basically do whatever they need to get the word out! Sometimes they'll need specific shoots that they need, such as my Jack Frost shoot I did over the holidays. So, make sure you guys check them out – HERE.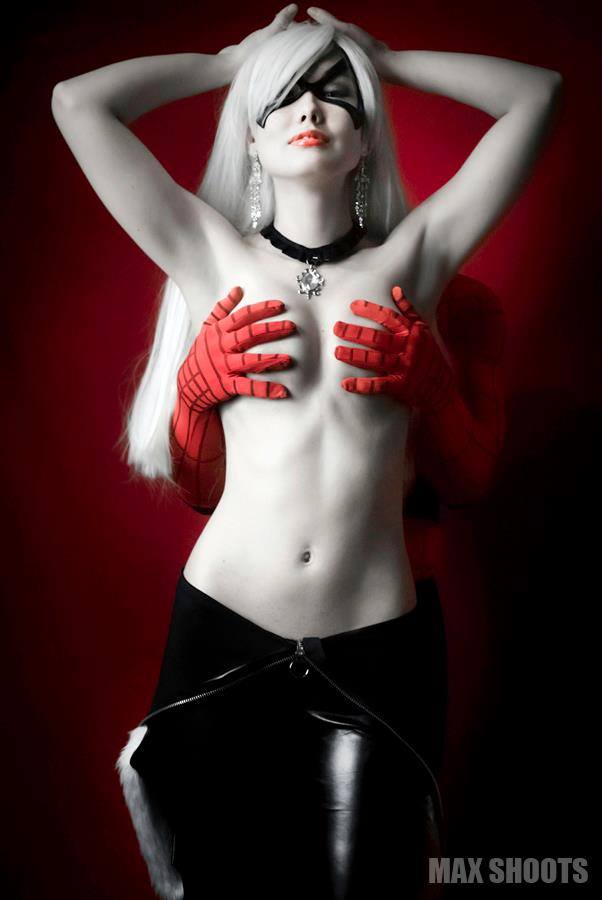 Have you ever been accused of being a 'fake geek girl' or of being too pretty to be a 'real nerd?' What would be your response to this?
MMM: Oh goodness yes! I think its absolutely ridiculous. People don't really do it to my face, though. They'll comment on a picture that is posted on a website and say things like "This fake geek girl thing has gone too far" or "I bet she hasn't even seen that movie, she's just doing it to get attention." And my response? I come right out and say, "Quiz me on the movie!" The last time I did this, the comment got deleted as soon as the person read that. And that is usually my response. If anyone ever questions my geekiness, I just ask them to quiz me. I like being asked questions anyway. If you think I need to prove it to you, I'd be more than happy. It won't bother me any if you believe me or not. But if it really concerns you that much, I'll put your mind at ease.
Looking ahead to the upcoming year, what cosplay-related goals would you like to achieve?
MMM: I have a ton of photo shoots I have planned that I just need to bring to life. I also hope to all hell that I get to go to SDCC and definitely hoping for NYCC too!
Similarly, are there any events or costumes we can look forward to seeing from you in 2013? Any surprises?
MMM: I will definitely be at Animate!Miami, Megacon, Supercon, Dragoncon, and certain others in between as they come up. As for costumes, all I can say is that…yes, there are surprises coming!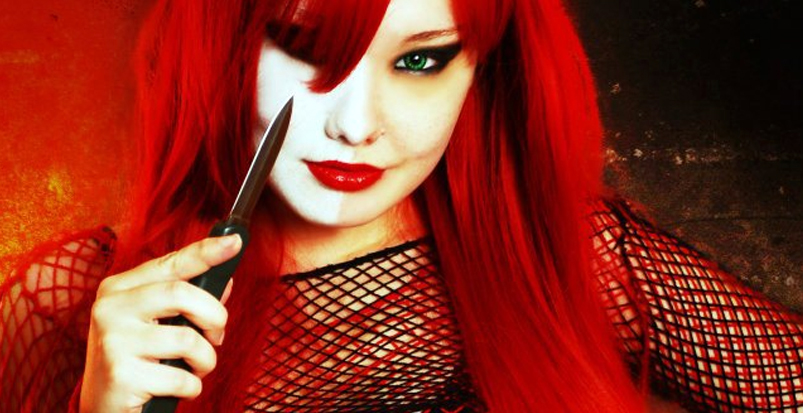 Want to see more of Mad Mel Madigan? Find her online here:
http://www.facebook.com/MadMelMadigan
http://aggressivecomix.com/?page_id=6264