Liui Aquino is a retail business man, model, and part-time cable TV and commercial actor in Manila, Philippines. More importantly, perhaps, he is also an amazing cosplayer who has transformed his life-long love for anime and games with his experience as a model. Needless to say, the results are amazing! While he has only been cosplaying for a short time, it's easy to predict that Liui is rising cosplay star as well as an incredibly nice and friendly person. Read more after the cut!
Why did you start cosplaying? What are some of the things about cosplay that interest you the most?
Liui Aquino: Ever since I was a child, I've already been into this. I loved watching anime, collecting figures and magazines, sketching characters and so on. During this time, internet wasn't as common as it is right now so it was pretty hard to get in touch. I only got updated about events through anime magazines. Back then, I wasn't as active as I am right now. I wanted to try cosplaying but my parents didn't allow me to do so because I needed to focus on my studies.

When I finally graduated and started working, I randomly came across these conventions again. I tried going in and at that moment, I felt like my anime fandom got revived. Since then, I became a regular conger; I started meeting new friends who were also into this hobby. I got impressed with their craftsmanship and role-playing. It seemed like a wonderful hobby so I decided to try it out myself. Since I'm also an artist at heart, I thought that I could also create those costumes and props by myself. This is how I started.

My first cosplay was on October 2011. I cosplayed as Prince Zuko of "Avatar, the Last Airbender. You can see it here: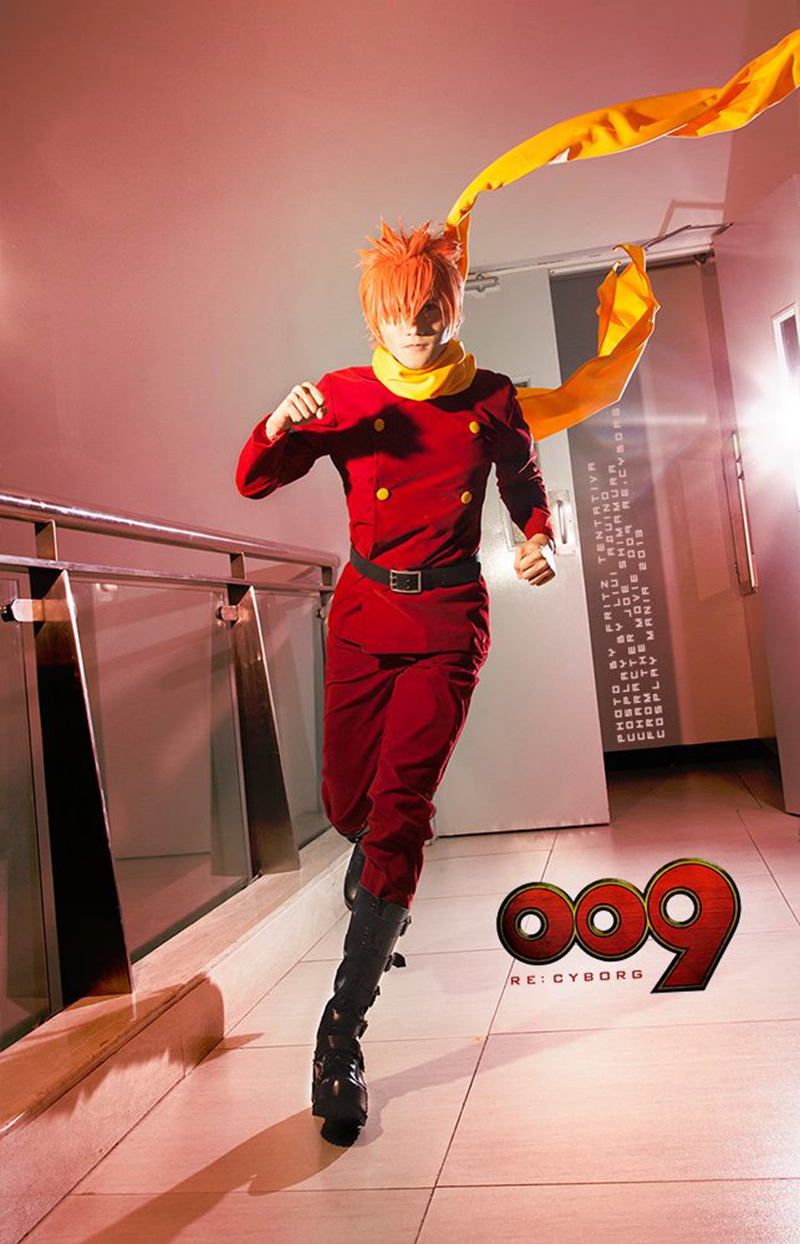 Can you tell us a little about what cosplay is like in the Philippines? Are conventions popular and are there a lot of people who cosplay?
Liui Aquino:  Cosplay cons and anime expos are scheduled all throughout the year here in the Philippines. There are even months when almost all weekends have cons and expos, so anime and manga fans have a lot to look forward to and the excitement is contagious! Cons were not as big of a hit some 7-8 years ago. Cosplay, in my opinion, was a small subset back then, like an underground party at conventions. Now, people have begun accepting it as a worthwhile hobby for all ages, attracting a bigger crowd yearly. Cosplayers from other Asian countries are being invited over during big events. Though most cosplayers, photographers, and congoers from inside and outside the capital prefer big events, some organizations manage to give cosplayers good conventions as often as monthly.
During the day, you have a 'normal' job as a retail businessman. Do any of your coworkers know that you cosplay? How is cosplay viewed by 'normal' (ie, non-fans) in Manilla?
Liui Aquino:  Not really. When I was in corporate, colleagues didn't know I was into this hobby. There are some colleagues asking for my Facebook account, but I don't normally give it and just tell them I don't have one. Those who I secretly gave my account to, SURPRISE! [laughs] I am proud to be a cosplayer, however, I don't brag about it much to workmates.

I am not so sure how non-otakus feel about cosplay. Some may find it odd for sure but others, at least people I know who are not really into this, think it's pretty cool and fun. (Thank God! LOL)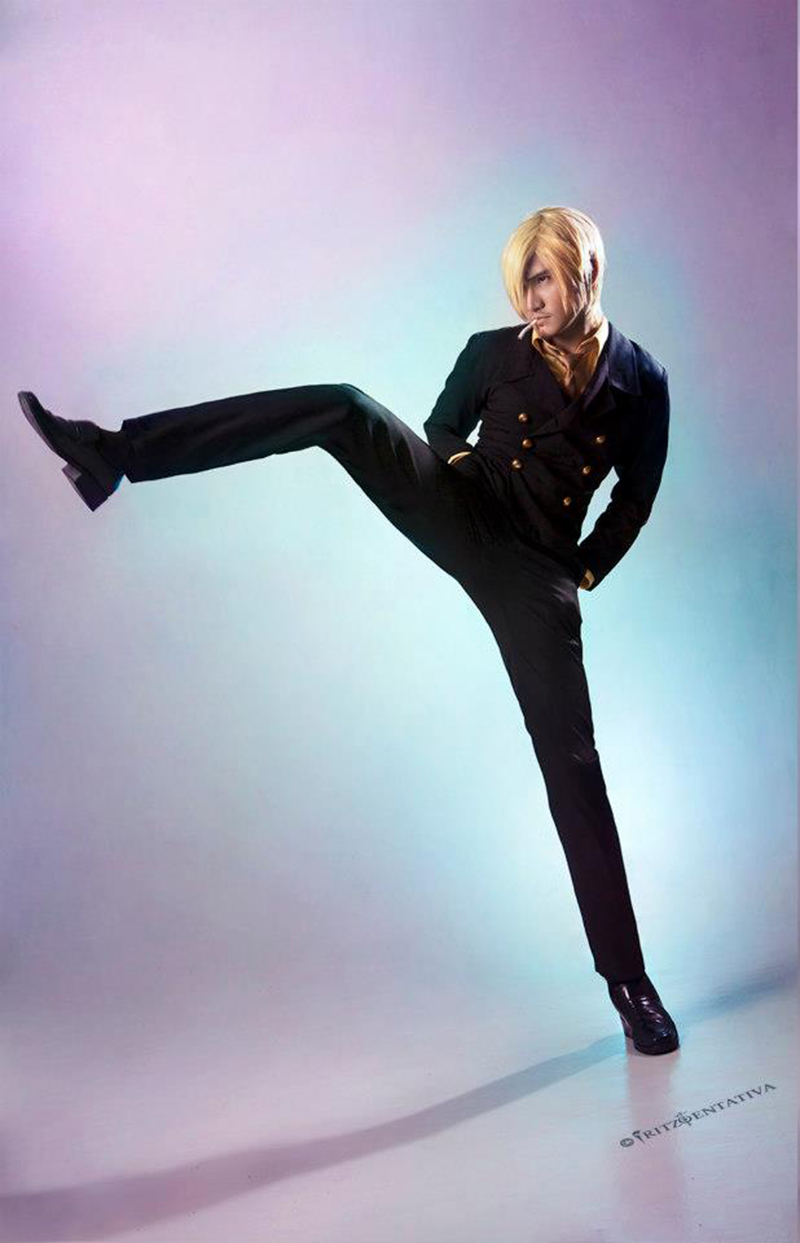 How did you start working as a freelance model? Did you start modeling before cosplay or did you interest in cosplay inspire you to begin modeling commercially?
Liui Aquino:  During my days in corporate and retail, I started looking for avenues where I can earn money while doing something I like. It was at that time in 2010 that I started modelling (but I don't do runway modelling. I am a little short for that, hehe). In a short period of time, I got a hang of it with the help of workshops and by getting gigs as a model subject for open shoot photography events. It was fortuitous that I was able to join my first cosplay convention in April 2011 where my love and fandom in anime got revived. With cosplay, I get the chance to marry my skill in modelling and role playing with my love for anime: to recreate and give life to characters who catch my interest.
As a model, do you have advice on posing and working with photographers that ordinary cosplayers might not know? And, obviously, as a model you are very attractive! Have you ever had any girls fall in love with you at a convention?
Liui Aquino:  Oh, thank you very much! That's very flattering *turns red from blushing*. There are lots of people from within and outside the Philippines who are very vocal on how they love and appreciate my cosplays. I find it really sweet, but I don't really assume that they are in love with me. Probably the character! [laughs]

As a cosplayer working the camera, we should not just pose like a model, we should BE THE CHARACTER. Internalize the personality of the character you're portraying. Research the character's posture and gestures, from head, to foot, and especially the hands.  You need to experience the character by watching the show, by reading, or by playing the game so you can execute them properly. Your costume and props must work together with your poses. Play their attitude when working with your photographer. That way, viewers and fans will find the cosplay convincing, making them appreciate, recognize, and love YOU and the character you portray.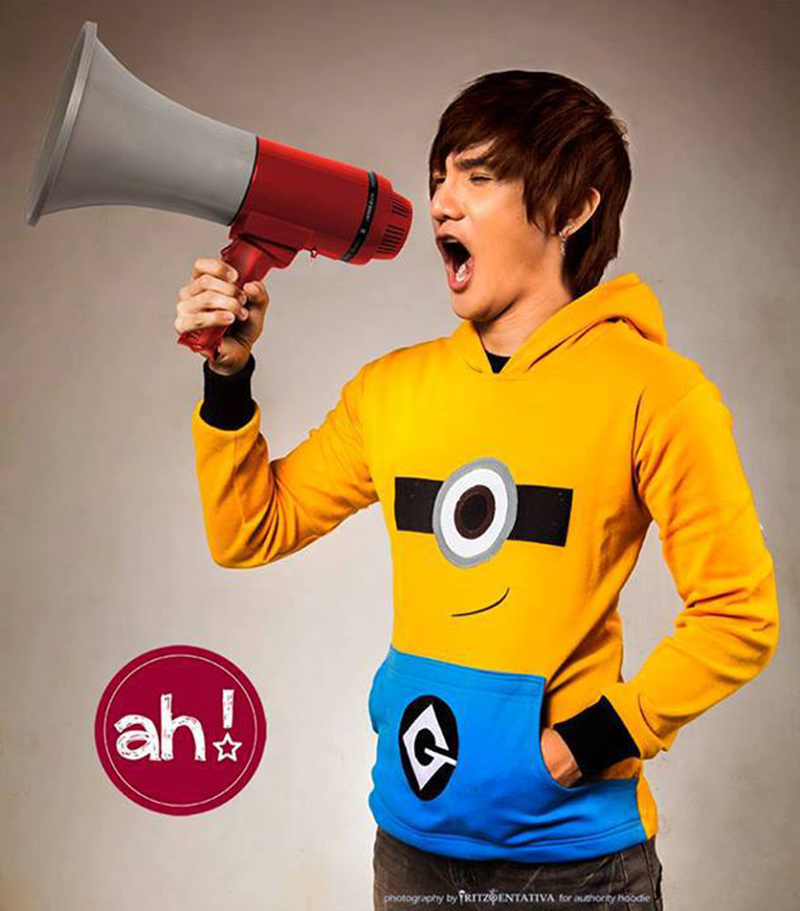 In the USA, there are more women who cosplay than men. Is this the same in the Philippines or are there a lot of guys who like cosplay? Have you ever received a negative reaction for being a 'guy who cosplays?'
Liui Aquino:  I am not absolutely sure, but from my observation, women cosplayers also outnumber men here in the Philippines and that goes for both character cosplays and mecha.

So far, I haven't received a negative reaction on my person for cosplaying, thank goodness [laughs]. I am very blessed with my viewers and subscribers because I receive so many compliments all around the world and I feel so overwhelmed whenever they send me sweet messages with how they appreciate my cosplays.
What costumes are you most interested in? So far, you have cosplayed mainly anime characters – is this the genre that you like the most?
Liui Aquino:  I really like watching anime more than playing games. Well, I have my Jack Frost cosplay from Rise of the Guardians and Prince Zuko from Avatar the Last Airbender… I am not very particular with the genre. So long as I connect with the character's personality and appearance, I would definitely try to take them on and give them life through cosplay.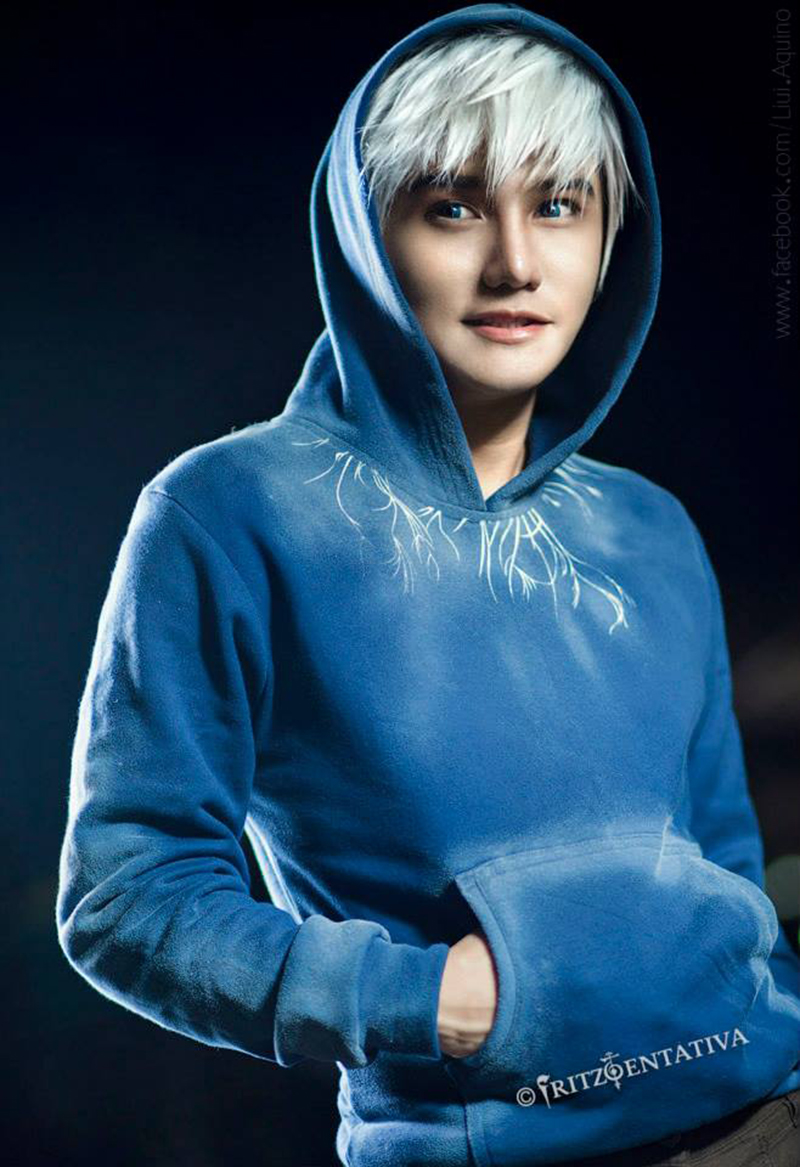 Thanks to the internet, cosplay has really become an international hobby. Have you met and made friends with other cosplayers online who live in different countries?
Liui Aquino:  Oh, yes! Definitely, and from all over the world! Everyone I meet online are very nice and appreciative and I feel so very blessed. They even make fan-arts, fan-signs, and some even send and give me gifts and goodies. I am so lucky to have so many friends online, though I have yet to physically meet on in person.
It can be difficult to capture the look of a character in a costume or a photograph. Do you use any make-up during your photoshoots? Do you have any make-up or wig tips specifically for men?
Liui Aquino:  I use basic make-up in both photoshoots and cosplay conventions. Most, if not all, characters I portray have exceptionally flawless skin so I have to live up to that standard [laughs].

Make-up tips for men: do not over-do your make-up, remember that we are attempting to give physical form to an animated character. Take, for instance, Takeru Sato. They didn't exaggerate on the make-up but still, he was able to give a believable rendition of Kenshin Himura's character. As for wigs, remember that this is a hobby and that a wig is part of the cost of the investment. To be believable, if needed, don't be scared to cut and layer those wigs. You may also use your own hair and color it if that's an alternative, if you are out of budget and want to be resourceful.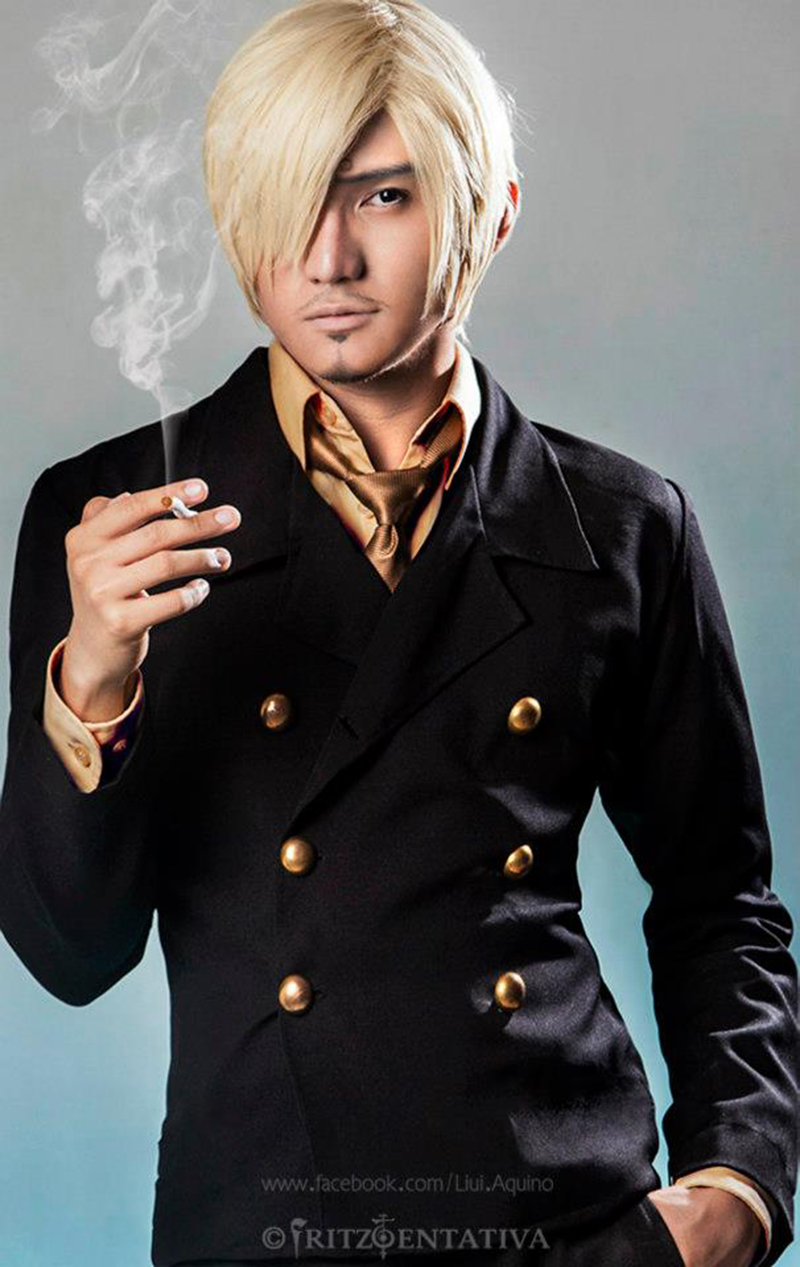 What are your future cosplay goals? Do you see this as mostly a hobby or would you like to try and make it something more like a professional career?
Liui Aquino:  Hearing or reading how much others appreciate the effort I give to each of my cosplay is a big reward already. I even get paid gigs because of this hobby.

However, it always makes me want to come up with something that is better than my last. I guess being better as time goes by is my ultimate goal. I do not want to consider this to be my professional career because the expectations will thus be greater and that's where frustration and pressure may come in. I still just want cosplay to remain a hobby. Cosplaying is, after all, me having fun. Fun is being with friends who truly motivate and understand me and a family who supports me in my hobby. It's a momentary escape from problems and worries in life. And fun for me is sharing my craft to the whole world without expecting anything in return. The more I enjoy it, it seems, the luckier I get!
Want to see more of Liui Aquino? Find him online here:
FACEBOOK // http://www.facebook.com/pages/Liui-Aquino/
TWITTER // http://twitter.com/LordLiuiThe1st
DEVIANTART // http://liui-aquino.deviantart.com
YOUTUBE // http://www.youtube.com/user/liuiaquino