With gorgeous cosplay girls popping up daily, it can be hard to differentiate yourself from the pack. But Shantel Knight AKA Zombie Bit Me does not have this problem – she is infinitely lovely, makes awe-inspiring costumes, and is one of the fastest rising cosplay stars! Read more after the cut!
Your cosplay name is 'Zombie Bit Me.' How did you pick this name – was it inspired by Vampy Bit Me?
Zombie Bit Me: A little bit. She was the first cosplay and a professional at that, that I had ever talked to. I was also a huge fan of zombies. (: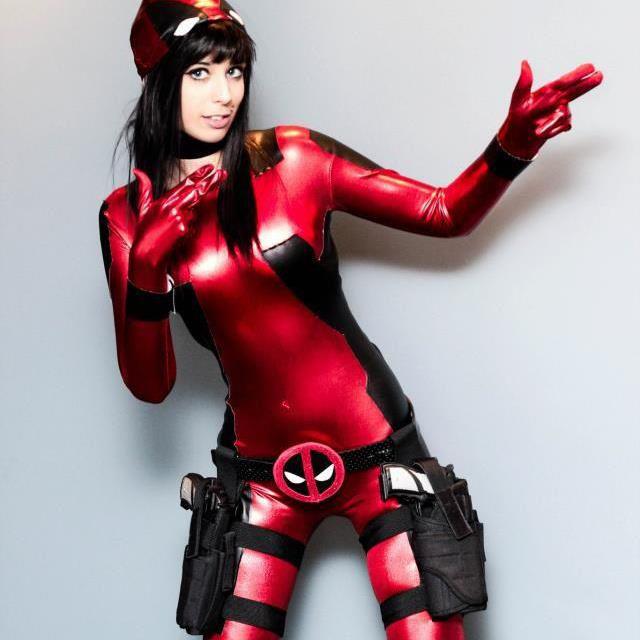 All of your costumes are handmade by you, which is absolutely fantastic! When you first began to cosplay, how much experience did you have with costume-making? What was one of the first important lessons you learned about costume construction?
Zombie Bit Me: ABSOLUTELY NO EXPERIENCE. and I'm still learning, half the time I wing things and hope to got it works out in the end. The first thing I learned quickly though was take your time on things and make sure to measure. Sometimes it's better to make something bigger then take it in afterwards.
You recently completed an absolutely incredible Skyrim costume. Can you walk us through your construction process?
Zombie Bit Me: My Skyrim costume was actually made last year for the 2012 FANEXPO Canada. It took only 2 days to construct which even I myself find crazy. All it was was doing papermache one day along with the little bit of sewing needed and then covering the papermache with plastics the next day and painting.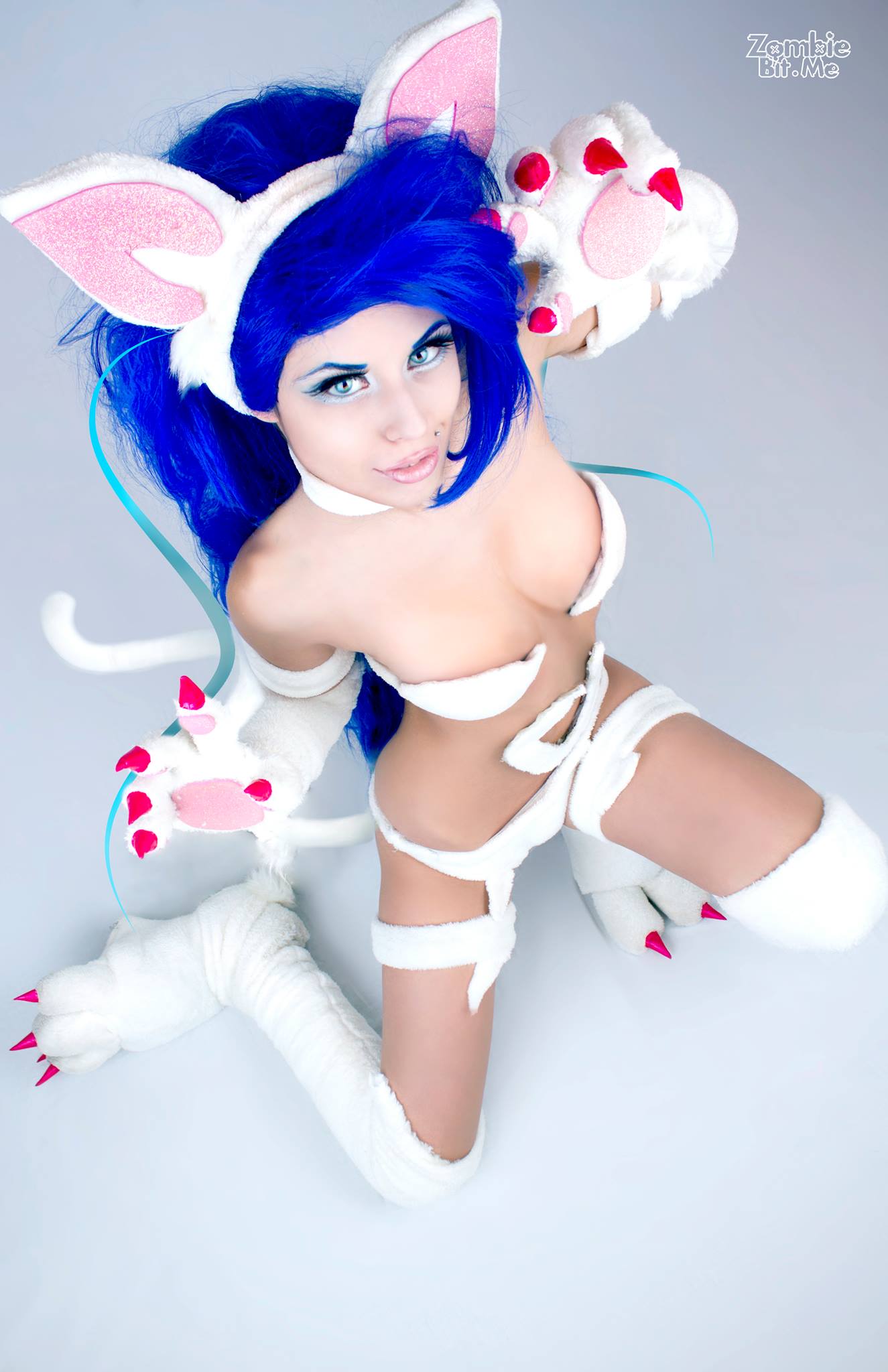 In addition to being a successful model and cosplayer, you are also the Cosplay Coordinator for Niagara Falls Comic Con! When you are planning cosplay events for a convention, what are some of the things you look for? Aside from conventions staples like masquerades, is NFCC hosting any unique cosplay-related events?
Zombie Bit Me: Being a cosplay coordinator can be hard at times, besides setting up the masquerades which yes we do have one this year! I also have to find out celebrity cosplay guests. Doing this is a long hard process due to the fact the popular cosplayers are either very busy and don't have the time to answer an email for a only 3rd year con or they have too high demands- and can be very rude about it.
You mention that it might be hard to get responses from big-name cosplayers and that they can sometimes be abrupt or rude. Do you think that this is a rising trend in cosplay – cosplayers who are rude or have egos? As you yourself continue to skyrocket into stardom, are you ever afraid that you might become one of those 'rude cosplayers'?
Zombie Bit Me: Uhm I think with any fame an ego can be formed for anyone, not just a cosplayer and people should really watch themselves. There are still a few who have a good heart and personality such as the people I've been honored to work with. For myself I don't think I will because I don't think I'll ever consider myself famous and really everyone who has purchased a print or liked my page I appreciate so much and to thank them I like to be able to reply to them and help them out with things as well such as interviews or helping with cosplay questions.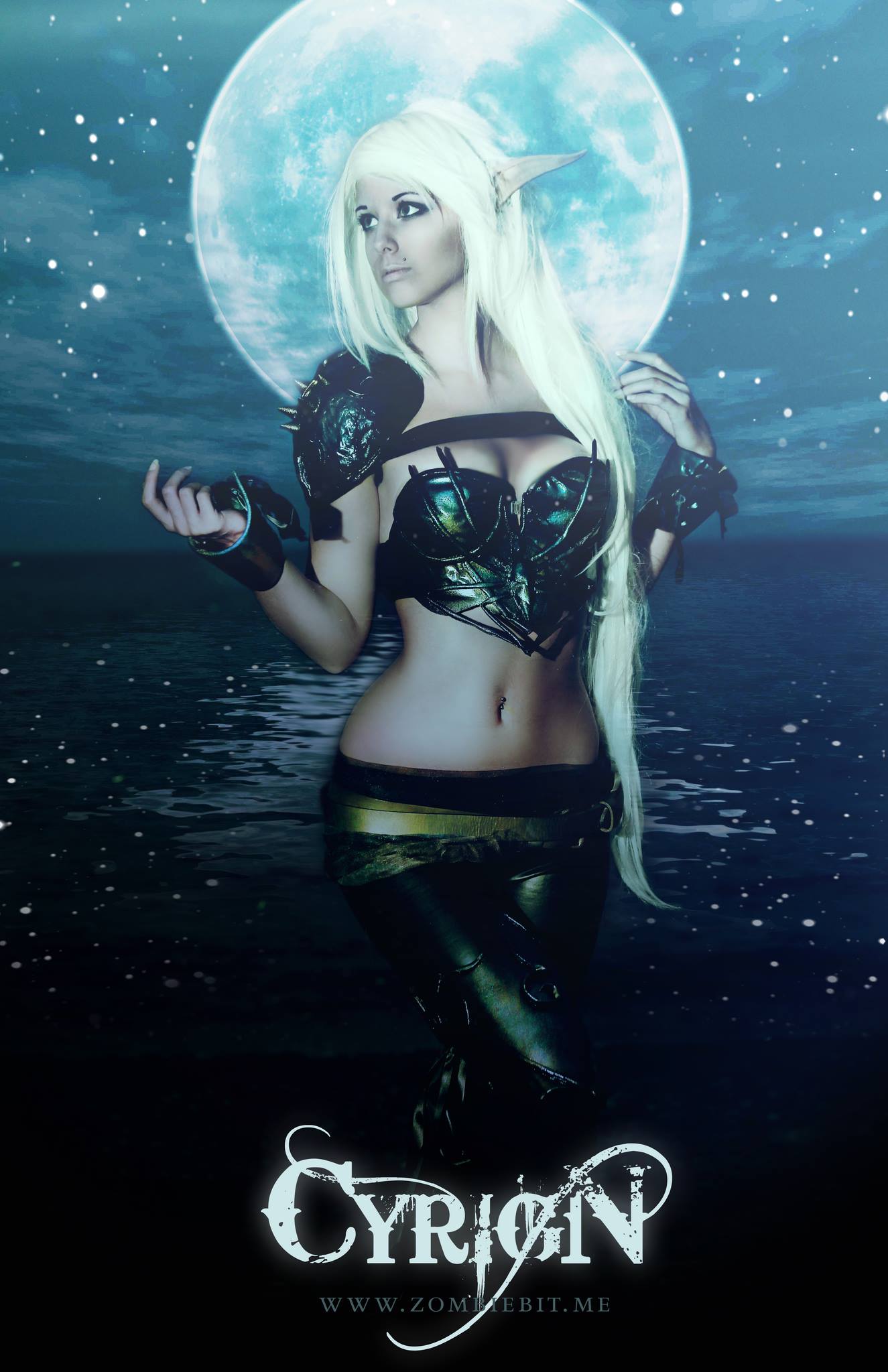 Recently, your costume and cosplay page on Facebook have been surging in popularity – for obvious reasons, your work is incredible! Are there any tidbits of information about you that your Facebook fans might not know?
Zombie Bit Me: I'm so thankful for the recent skyrocket of likes. They may not know that my favorite food is actually potatoes. o:
Well, your favorite food might be potatoes, but we'd never guess from looking at your pictures. Do you have any fitness tips for maintaining a photo-ready body?
Zombie Bit Me: Haha, I think I could be the laziest person ever. I have no fitness or workout plan. I like eating fatty foods and icecreams. I guess it's just a fast metabolism. But to keep from a heart attack, I do eat healthy as well and I would always recommend that. Heck my work out is wearing huge crazy costumes and walking around cons. YEP THAT'S A WORK OUT AND A HALF!!!
The relationship dynamic between cosplayers and photographers has been an issue of some debate lately. As a model and cosplayer who sells prints of your work, how do you navigate the sometimes tricky realm of finding new photographers and resolving image-rights issues? Do you have any advice for cosplayers on how to build successful relationships with photographers? 
Zombie Bit Me: Well, with my photographers and I, we both have the same goals and they are always cool with me selling my images. We always make sure we work together on things and get to what we both want out of the photoshoot. The best way to establish a good relationship is when working with a brand new photographer take the time to get to know each other and how each other works – DO NOT BE A DIVA! Actually listen to your photographer and they will end up listening to you as well. It's a team effort and always make sure you ask them what you are allowed to do with the images… If they put their logo on the image don't take it off unless you have permission.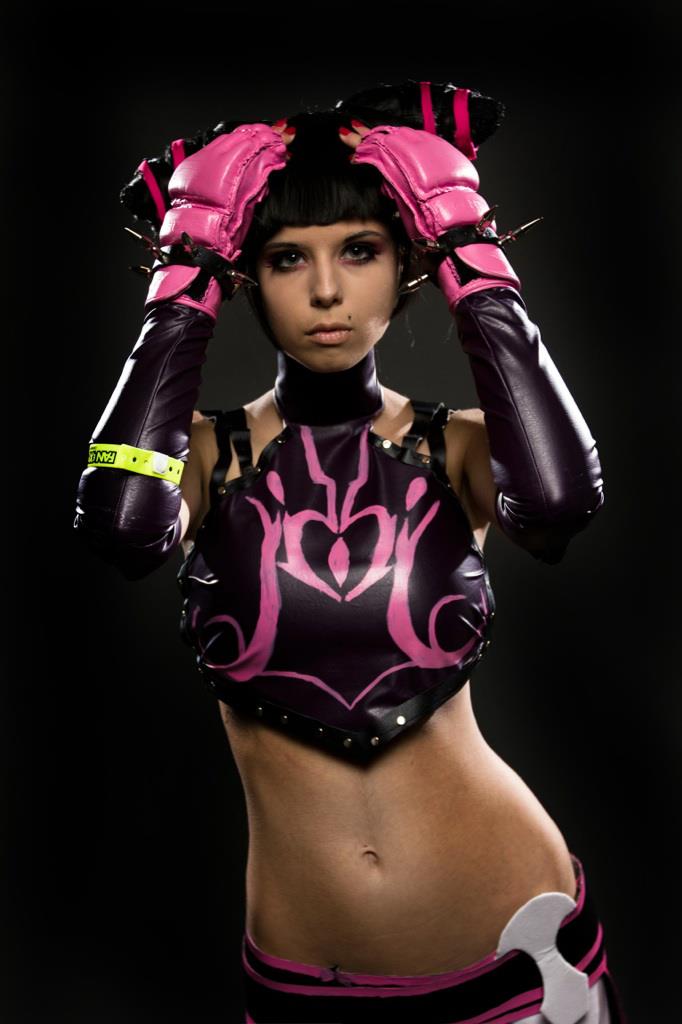 One of the most interesting aspects of your cosplay photographs is the impressive application of post-production. Do you do the post-production on your images or do you have certain people that you like to work with? What are your thoughts on using photoshop in cosplay?
Zombie Bit Me: I do most of my own post production however I have one photographer who will do an amazing edit job and I won't have to do a thing. I'm all for good photoshop work to a cosplay image, I believe it makes the character portrayed all the more real and people shouldn't be against that.
Since you have experience using Photoshop in cosplay images – do you have any tips for people who might want to start using it? How to do make an image look awesome without making it look 'over-worked'?
Zombie Bit Me: Uhm basically it's learn all the tools and play around before hittin the cosplay photos. It does take a lot of practice especially when you want it perfect. It's not just about the effects you apply it's knowing what size you should be working with and how to save it properly for different things. Specially for print you would want a 300ppi image and for web you'd want 72ppi image so people can't steal it. Also when editing make sure you have the photographers permission.
What are a few of the most memorable experiences you've had at conventions?
Zombie Bit Me: Every experience at a con is memorable I think. I'm always meeting new and amazing people. Seeing amazing costumes. I can't just pick one.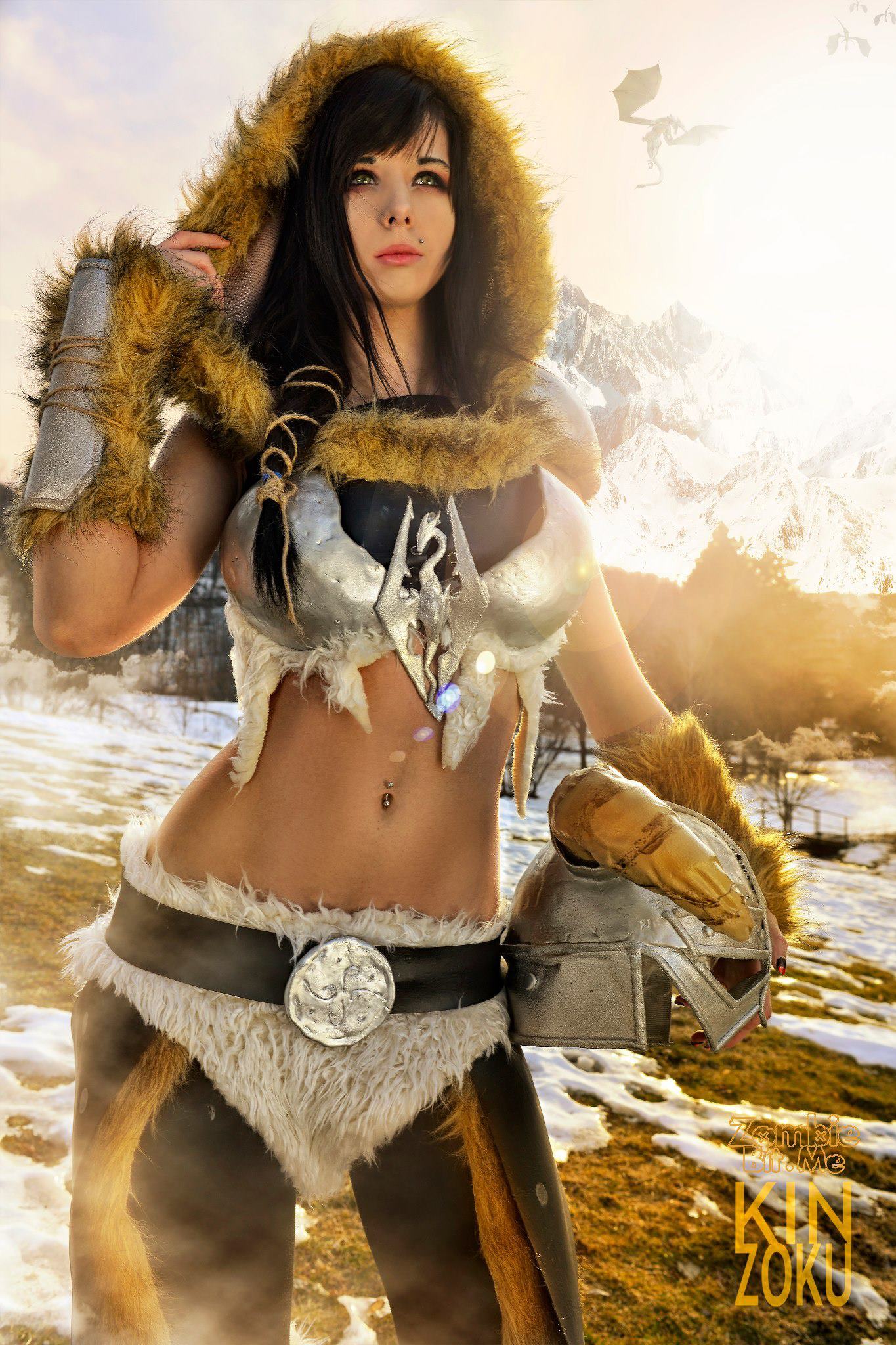 Finally, what are your upcoming conventions? Do you have any new costumes that you're planning on debuting?
Zombie Bit Me: Burlington Toycon – March17th; Funexpo – May18th (charity con); Anime North – May24th to 26th; NFCC – June8th to 9th; Fanexpo – August22nd to 25th; MORE TO BE ANNOUCED!! I will have new costumes for almost all of them ^^
Want to see more Zombie Bit Me? Find her online here: